Shakti was a core partner of the 2017 Business and Climate Summit, the annual gathering of leading global businesses and policy makers on climate action, held on August 31st-Sept 1st, 2017 in New Delhi. Hosted by the Federation of Indian Chambers of Commerce and Industry (FICCI), the summit showcased business leadership in addressing climate change and highlighted how business and governments can work together to achieve climate objectives.
The summit was marked by the presence of several high-profile speakers—comprising CEOs of top companies, high-level representatives of governments, international agencies and global climate-related organizations—with participation from more than 15 countries representing several sectors of the economy. Ahead of the UNFCCC's COP23 meetings, participants amplified the key policy messages needed to meet the goals set under the Paris Agreement. With business recognized as being crucial to meet global climate goals, several global and Indian business leaders shared how their companies were driving the transition to a low-carbon future.
The summit consisted of high-level thematic discussions covering topics from urban mobility to climate finance. On the second day of the summit, Mr. Krishan Dhawan, CEO of Shakti, moderated the Summit's session on Energy Efficiency: Creating a Market for Services and Products. In his opening address, Mr. Krishan Dhawan stressed that energy efficiency is of strategic significance for India in terms of achieving environmental sustainability, affordability of energy as well as energy security. He also highlighted Shakti's contribution to energy efficiency initiatives such as the national LED lamp program and fuel efficiency norms for Heavy Duty Vehicles (HDVs). He added that markets need to be strengthened through better business models, heightened awareness levels and increased access to finance. The panel comprised Mr. Upendra Bhatt, Managing Director, cKinetics and Chairman, Alliance for an Energy Efficient Economy (AEEE) and Mr. Manu Maudgal, Programme Advisor, Energy Efficiency Services Limited (EESL) who offered important perspectives on scaling up energy efficiency markets across the country and how businesses could play a key role during the process.
Shri Piyush Goyal, Minister of Railways and Minister for Coal, while addressing a plenary session on 'Milestones to 2020, and Beyond under the Paris Agreement highlighted that "India is willingly and voluntarily working towards reducing carbon footprints in the country."  Dr. Harsh Vardhan, Minister of Science and Technology, Earth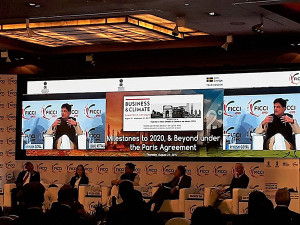 Sciences, Environment, Forest and Climate Change highlighted India's efforts to meet the NDCs by developing a roadmap for their implementation and the constitution of an implementation Committee and six thematic sub-committees involving key ministries and departments of the government. Ms. Naina Lal Kidwai, Past President, FICCI and member of the Board of Directors at Shakti, said that "realizing the dominant role that non-state actors will be required to play, the Paris Agreement under the UNFCCC for the first time called on all stakeholders—governments, businesses, civil society, to collectively resolve on embarking on the journey towards a strengthened global partnership that will help deliver the net zero emissions target." Ms. Patricia Espinosa, Executive Secretary, UNFCCC, said that "now was the great opportunity for businesses, government and all other stakeholders to achieve truly sustainable goals. To open up and capitalize on the opportunities for reduction in carbon emissions and impart the necessary momentum to climate change solutions."