Clean energy finance emerged as cornerstone of the Paris Agreement with efforts to tackle climate change being stepped up to ambitious levels. India's domestic and global climate commitments necessitate a significant infusion of capital. It is estimated that around USD 2.5 trillion will be required during 2016-2030 to achieve the goals set under the Nationally Determined Contributions as well as an additional USD 8.9 trillion for the Sustainable Development Goals. Critical and long-term investments are required to upgrade existing energy systems, retrofit existing carbon intensive infrastructure and develop new low-carbon infrastructure. The scale of investment will require the infusion of significant finance at more attractive terms.
Although investment in clean energy is growing in India, the scale of investment does not yet match the capital infusion needed to achieve India's clean targets. Public funding alone is insufficient and private investment has so far been limited. While strong and effectively implemented policies can grow clean energy in India, financing solutions are critical to making these policies work. Shakti Sustainable Energy Foundation (Shakti) works to enhance the investment required for meeting India's clean energy targets as well as to find solutions for catalyzing clean investment instruments.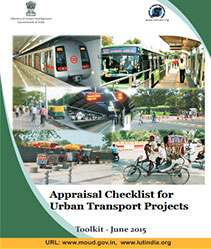 Sector: Clean Energy Finance
Undertaken By : Institute of Urban Transport
Year: 2015
Shakti supported the development of an evaluation criteria based on which transport projects can be evaluated for compliance with principles of sustainable transport and then funded accordingly.
Download Report: