As with other emerging economies, India faces the dual challenge of reconciling its rapid economic growth with a pressing need to address climate change. In response to this, India has invested considerably in domestic and international action to address climate change. The Nationally Determined Contributions (NDCs) committed to under the Paris agreement affirm India's commitment to a low-carbon pathway for development. The NDCs set a clear signal for clean energy in reducing the emissions intensity of the Indian economy, and recognize the importance of aggressively restoring forest cover.
Shakti's climate policy programme supports several efforts to transition India towards a low carbon pathway. We work to strengthen GHG management capacities and facilitate access to finance from appropriate climate funding sources. We invest in efforts to make air quality management processes more robust and effective. Our work in the brick kiln sector promotes cleaner and more efficient building materials. We foster sustained dialogue and engagement at the local and national levels on climate and energy issues. These and other initiatives supported by us are aimed at catalysing policy solutions that mitigate climate change.
Sector: Climate Policy
Undertaken By : Centre for Science and Environment
Recent Publication: 2018
Shakti is enabling several activities to increase the adoption of cleaner technologies in brick making as well as to increase the market penetration of alternative building materials that are cleaner and more resource efficient. Some of these activities include informing emission standards for brick kilns, training of brick makers and developing...Read more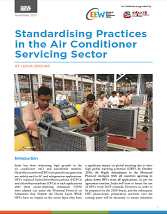 Sector: Climate Policy
Undertaken By : Council on Energy, Environment and Water
Recent Publication: 2017
India has adopted a positive stance on the phase down of HFC production and consumption by proposing an amendment to the Montreal Protocol. Despite this affirmative action, there are relevant concerns amongst domestic stakeholders with respect to the alternative substances that are expected to replace HFCs. In particular, there are concerns...Read more
Sector: Climate Policy
Undertaken By : Centre for Environment and Energy Development
Recent Publication: 2017
The Indo-Gangetic plain is characterized by high population density, pollution causing activities like brick manufacturing and mining, and thermal inversion in the winter, all of which contribute to severe levels of ambient air pollution in the region. According to WHO estimates, several of the most highly polluted cities in the world lie in the...Read more
Sector: Climate Policy
Undertaken By : LNC Pvt. Ltd.
Recent Publication: 2017
India recently commenced stage II of the HCFC Phase-out Management Plan (HPMP-II) under the Montreal Protocol. As part of the Plan, India seeks to phase out the consumption of HCFC-141b by 2020. HCFCs are primarily used in the foam sector as a blowing agent. While most large-scale foam manufacturers in India have been able to shift to alternate...Read more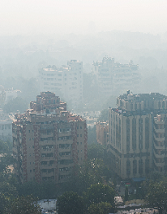 Sector: Climate Policy
Undertaken By : Edelman India
Recent Publication: 2017
Indian cities have some of the most polluted air in the world, according to most global air quality databases. A majority of cities, including both mega cities as well as smaller cities are emerging as pollution hotspots with ordinary citizens facing severe health impacts. It is clear that public participation plays a key role in the successful...Read more
Download Report: