As with other emerging economies, India faces the dual challenge of reconciling its rapid economic growth with a pressing need to address climate change. In response to this, India has invested considerably in domestic and international action to address climate change. The Nationally Determined Contributions (NDCs) committed to under the Paris agreement affirm India's commitment to a low-carbon pathway for development. The NDCs set a clear signal for clean energy in reducing the emissions intensity of the Indian economy, and recognize the importance of aggressively restoring forest cover.
Shakti's climate policy programme supports several efforts to transition India towards a low carbon pathway. We work to strengthen GHG management capacities and facilitate access to finance from appropriate climate funding sources. We invest in efforts to make air quality management processes more robust and effective. Our work in the brick kiln sector promotes cleaner and more efficient building materials. We foster sustained dialogue and engagement at the local and national levels on climate and energy issues. These and other initiatives supported by us are aimed at catalysing policy solutions that mitigate climate change.
Sector: Climate Policy
Undertaken By : Institute of Financial Management and Research
Year: 2015
The challenge of climate change is often referred to the most defining issue of our time. In the last few years, India has announced several policies and programmes, including several national missions and state-level action, all of which have significant implications for India's abilities to meet its climate goals. Shakti is supporting research...Read more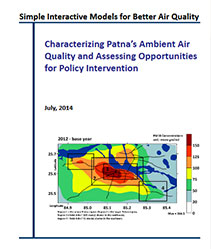 Sector: Climate Policy
Undertaken By : UrbanEmissons.Info
Year: 2014
According to the World Health Organisation (2014), air quality in the city of Patna is among the top 100 cities with the worst PM10 pollution globally.Given the rapid development in Bihar and especially in the Patna region, it is necessary to introduce adequate measures for better air quality.