Finance is a critical enabler for India's transition to a low carbon, climate-resilient economy. Significant investments are required for the implementation of India's climate actions at the national level and across states. Given the scope and scale of investment required, financing through international and domestic sources, via public and private channels need to be scaled up and effectively utilized. Shakti supports efforts focusing on capacity building of institutions, strategic allocation of climate finance and designing financial instruments to facilitate access to finance from appropriate funding sources.
Sector: Climate Policy
Undertaken By : Institute of Financial Management and Research
Year: 2017
Governments at the sub-national level in India have developed and implemented instruments and policy measures to finance their climate actions. Shakti has enabled research activities that are designed to assess and improve the performance of these measures.
Download Report: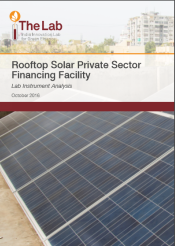 Sector: Climate Policy
Undertaken By : Climate Policy Initiative
Year: 2016
The India Innovation Lab for Green Finance brings together experts from government, financial institutions, renewable energy, and infrastructure development to identify, develop, and accelerate innovative investment vehicles for green growth in India. More details on the website:...Read more
Download Report: