Almost 237 million Indians lack access to reliable and affordable electricity. This not only constrains productive activities, incomes and employment in rural areas, but also hinders the delivery of essentials such as safe drinking water, healthcare and education. Expanding rural energy access or rural electrification is necessary for economic growth and human development.
Shakti Sustainable Energy Foundation (Shakti) seeks to promote policy, regulatory and institutional interventions to promote decentralized renewable energy (DRE) based solutions. Shakti works to strengthen the reliability of the distribution grid as well as to enhance the capacity of key stakeholders such as state and district-level energy development bodies, financial institutions and rural energy service entrepreneurs working in the DRE space. Shakti also engages in knowledge sharing and partnership building through multi-stakeholder initiatives such as Clean Energy Access Network (CLEAN).
Sector: Power
Undertaken By : Dalberg Development Advisors Private Limited
Year: 2018
Agriculture contributes to 15% of India's GDP and employs 50% of the workforce. Reliable irrigation, therefore, is a critical requirement not just for the farmer but also for the country. Solar irrigation pumps are a promising alternative to traditional water pumping systems which usually operate on grid electricity, diesel and kerosene. Given...Read more
Download Report: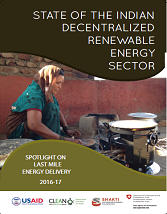 Sector: Power
Undertaken By : Multiple
Year: 2017
Currently, an estimated 237 million Indians lack access to any form of electricity, while an additional 100 million have less than four hours of electricity per day. At the same time, the Government of India has set a target of generating over 175 gigawatts of renewable energy by 2022. Decentralized Renewable Energy (DRE) can play a key role in...Read more
Download Report:
Framework for the Monitoring and Evaluation of DRE enterprises
Sector: Power
Undertaken By : Multiple
Year: 2017
It is estimated that around 237 million Indians remain unconnected to the discom grid and do not have access to reliable electricity. In the last few years, DRE-based mini-grids have emerged as an effective solution to provide clean and reliable power using locally available resources. On the policy front, mini-grids have been gaining prominence...Read more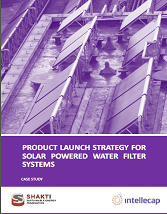 Sector: Power
Undertaken By : Intellecap Advisory Services Pvt. Ltd.
Year: 2017
Decentralized Renewable Energy (DRE) enterprises have immense potential to meet India's energy needs, particularly in rural areas. Shakti facilitated the development of a multi-approach programme to enhance access to finance for DRE enterprises by : providing technical assistance services to DRE enterprises and financial institutions, designing...Read more
Download Report:
Alternate Financing Facilities
Framework for the Monitoring and Evaluation of DRE enterprises
Sector: Power
Undertaken By : Ashden India Renewable Energy Collective
Year: 2014
Shakti has supported the development of a briefing paper series on decentralized renewable energy (DRE) that capitalizes on practitioner experience to inform new DRE interventions. Rural energy practitioners have systematically identified critical themes relevant to DRE in India. Each theme is presented in the form of a briefing paper. The papers...Read more