India's suite of clean energy initiaves includes increasing the national solar generation capacity to 100 gigawatts (GW) by 2022. There is immense opportunity to harness solar energy given the country's abundant solar potential. But the pace of solar capacity addition must be significantly enhanced to meet the 2022 target. Shakti Sustainable Energy Foundation (Shakti) supports efforts to accelerate the deployment of solar power with a focus on:
Distributed Solar: With the growth of solar energy, distributed solar generation is gradually gaining ground across the country. Shakti works to develop supportive policy frameworks for the expansion of distributed solar energy, and for the integration of distributed solar with the grid, to support rural electrification efforts
Utility-Scale Solar: India's solar ambition has increased manifold in the last few years. Shakti is supporting efforts to promote utility-scale solar by identifying policy and market related challenges and opportunities.
Sector: Power
Undertaken By : TERI School of Advanced Studies
Year: 2018
India's ambitious target of 175 GW renewable energy by 2022 will require an estimated 120,000 hectares of land at a deployment rate of over 10 GW over 15,000 hectares of land each year. The issue of land availability is viewed as a major hurdle to meeting this target. Lessons from other parts of the world suggest it is possible to fast-track...Read more
Sector: Power
Undertaken By : CII-Sohrabji Godrej Green Business Centre, World Resources Institute
Year: 2017
The Green Power Market Development Group (GPMDG) India is an industry-led initiative aimed at rapidly increasing the share of renewable energy in the overall energy consumption of commercial and industrial establishments. GPMDG works towards finding solutions to the policy, regulatory and market barriers that currently impede the growth of the...Read more
Download Report: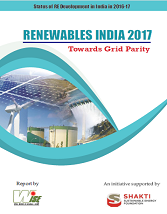 Sector: Power
Undertaken By : World Institute of Sustainable Energy
Year: 2017
The Government of India has ambitious plans to scale up renewable energy, and stakeholders are deliberating cost-effective ways to integrate a largeever increasing quantum of renewables with the power system. A challenge being faced today is the lack of robust data on renewable energy, which confines limits the understanding ability of...Read more
Download Report: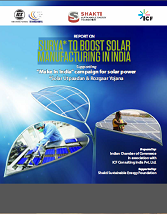 Sector: Power
Undertaken By : Multiple
Year: 2017
The momentum for renewable energy has increased at a rapid pace, and especially so for solar and wind energy. India's ambitious renewable energy target of 175 GW by 2022 makes it imperative to assess the challenges of domestic availability and manufacturing of different renewable components. It is also necessary to create enabling policy and...Read more
Sector: Power
Undertaken By : Center for Study of Science, Technology and Policy
Year: 2017
With the ratification of the Paris Agreement, India has committed to clean and renewable energy targets. However, there are several myths and perceptions regarding renewables, which restrict the mainstreaming of renewable energy in the country. For example: renewable energy is expensive, it requires too much land, and can lead to instability in...Read more