Rapid urbanization has made sustainable urban transport an urgent development priority. Indian cities are expected to grow from 377 million in 2011 to 600 million by 2030. These cities must provide services to residents and deal with overburdened roads. The transport sector is already the second largest consumer of primary energy. It is a leading contributor to air pollution in the country. With cities poised to invest in infrastructure that will last for decades, huge opportunities lie to develop sustainable transport systems. This can avoid a lock-in of emission and energy intensive development patterns.
Shakti Sustainable Energy Foundation supports the design and implementation of policies that can build sustainable transportation systems. Our work towards focuses on: better transport policies in cities, improved vehicle and fuel efficiency and energy efficient freight.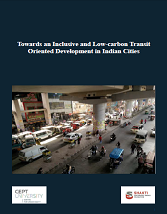 Sector: Transport
Undertaken By : Multiple
Year: 2017
The growing urban sprawl in India is leading to the increased use of private vehicles, congested roads and more pollution as well as adding to the existing infrastructure of our cities. Along with efforts to build smarter and more sustainable cities, the Government of India is also focusing on Transit-Oriented Development (TOD) to support the...Read more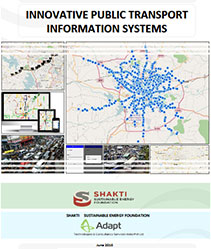 Sector: Transport
Undertaken By : Adapt Technologies and Consulting Services Pvt. Ltd.
Year: 2016
Providing real-time, accurate and reliable information on bus operations can help increase the declining mode share of buses in Indian cities. Shakti has commissioned the development of a public transport information system for buses in Hyderabad, as a case city, through the innovative use of information technology based web and mobile...Read more
Download Report:
Sector: Transport
Undertaken By : Foundation for Innovation and Technology Transfer, Indian Institute of Technology, Delhi
Year: 2016
Inter-city and intra-city public bus services in India are operated by State Road Transport Undertakings (STUs). In the process, STUs generate a huge amount of data on bus operations. This data can be used to improve operations management and increase customer satisfaction. Shakti supported a review of the existing data maintenance practices and...Read more
Sector: Transport
Undertaken By : Delhi Integrated Multi Modal Transit Systems
Year: 2016
An efficient public transport system is a key pre-requisite for the sustained development of a city. It helps citizens meet their travel needs in an economical, safe, and energy-efficient manner. But many Indian cities lack the institutional and financial support required to strengthen bus systems. As a result, there is a deterioration in the...Read more
Download Report: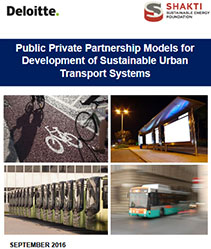 Sector: Transport
Undertaken By : Deloitte Touche Tohmatsu Limited
Year: 2016
The Smart Cities Mission will require significant amounts of capital to meet the rapidly growing requirements of cites. One way for cities to generate additional funds is Public-Private Partnerships (PPPs). The Smart Cities Mission has placed significant emphasis on the PPP model encouraging the private sector to mobilize capital, technology and...Read more