Cities must build and strengthen non-motorized and public transport systems in order to promote the use of these sustainable modes. This will require significant increase in financial investments needed to build such infrastructure. Shakti is supporting efforts to mobilize innovative funding mechanisms, create new funding instruments and reform the existing funding avenues to drive investments in public transport and non-motorized transport systems.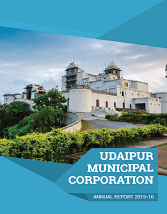 Sector: Transport
Undertaken By : Janaagraha Centre for Citizenship and Democracy
Year: 2017
Over the next 20 years, India's cities will require an investment of at least USD 800 billion to meet the growing demand for civic services. While some of this can be met through government funding, increasingly cities will have to seek recourse through other means, including the issuance of municipal bonds. While the potential of India's...Read more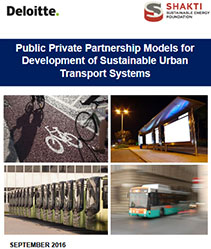 Sector: Transport
Undertaken By : Deloitte Touche Tohmatsu Limited
Year: 2016
The Smart Cities Mission will require significant amounts of capital to meet the rapidly growing requirements of cites. One way for cities to generate additional funds is Public-Private Partnerships (PPPs). The Smart Cities Mission has placed significant emphasis on the PPP model encouraging the private sector to mobilize capital, technology and...Read more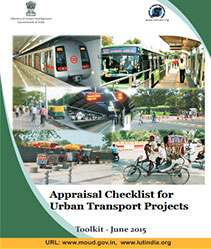 Sector: Transport
Undertaken By : Institute of Urban Transport
Year: 2015
Shakti supported the development of an evaluation criteria based on which transport projects can be evaluated for compliance with principles of sustainable transport and then funded accordingly.
Download Report: