There is an increasing trend of sprawls in Indian cities to accommodate the rapidly growing population. Sprawls lead to longer trip lengths, an increase in the use of private vehicles and consequently higher emissions. Shakti Sustainable Energy Foundation is supporting cities to develop integrated land use and transport plans and to design and implement Transit Oriented Development (TOD) policies, with the overall goal of maintaining high population densities, avoiding longer trips and enabling a shift towards sustainable modes of transport.
Sector: Transport
Undertaken By :
Year: 2017
With the right policies and investments, India's cities can be much more livable and prosperous. India's Smart Cities Mission is an ambitious multiyear effort in this direction. The Mission aims to improve the quality of life in over 100 fast growing urban centres by strengthening their core infrastructure and making them more liveable and...Read more
Download Report: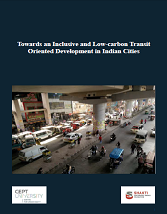 Sector: Transport
Undertaken By : Multiple
Year: 2017
The growing urban sprawl in India is leading to the increased use of private vehicles, congested roads and more pollution as well as adding to the existing infrastructure of our cities. Along with efforts to build smarter and more sustainable cities, the Government of India is also focusing on Transit-Oriented Development (TOD) to support the...Read more
Sector: Transport
Undertaken By : Centre for Environmental Planning and Technology (CEPT)
Year: 2015
Land use policies and development control regulations adopted by a city have a significant impact on its mobility patterns. Development plans that limit population densities within city boundaries by imposing limits on built up areas, cause city to sprawl to accommodate the land requirements of a rapidly growing city population.
Download Report: