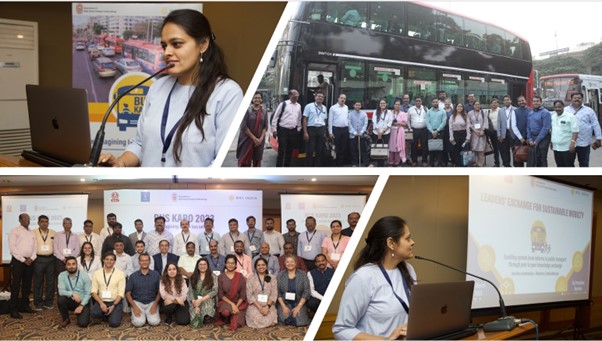 Priti Shukla at the capacity building workshop – Bus Karo
WRI India conducted Bus Karo Capacity Building Workshop 2023 in collaboration with Brihanmumbai Electric Supply and Transport (BEST), Delhi Transport Department and the Association of State Road Transport Undertakings (ASRTU) on 14th & 15th March 2023, in Mumbai. The purpose of this workshop was to support public transport authorities and cities in planning and strengthening the urban bus services in the backdrop of changing travel pattern and demand. The workshop model expected knowledge sharing through peer-to-peer engagements.
The workshop aimed to develop perspective of city officials in reimaging the urban bus services through understanding need for formulating long term vision, adoption and deployment of e-buses, awareness of available tools to improve e-bus operations efficiencies, potential of PPP in reducing government's risks, establishing mechanisms for financing of e-buses and leveraging technology for optimizing operations and informed decision making.
Priti Shukla, Programme Manager, Electric Mobility, was invited to participate in the WRI India conducted Bus Karo Capacity Building Workshop. At the workshop she spoke about how Intelligent Transport system (ITS) is an important enabler, a tool, for optimising services, amplifying the right solutions but it cannot correct structural problems. She stressed that because of this reason retrofitting broken processes for deployment of Intelligent Transit Management System (ITMS) is important as one size solution may not fit all and Public Transit Agencies must conduct a need assessment for bus transport, plan for functional specifications and then proceed for procurement process.