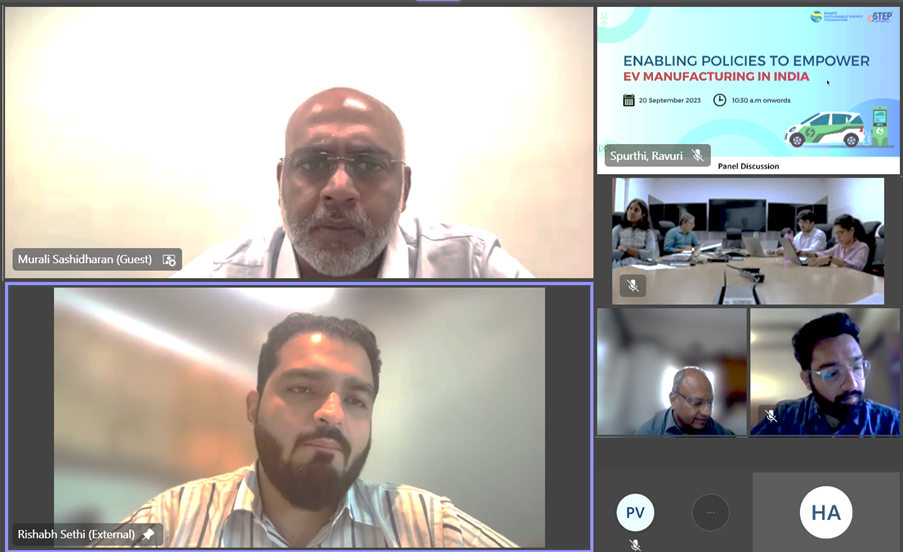 As a part of the efforts undertaken by the Center for Study of Science, Technology and Policy (CSTEP), a webinar series has been organized on 'Policy Imperatives for Long-Term Adoption of Electric Vehicles in India'. During the webinar series,  Rishabh Sethi, Senior Programme Manager, Electric Mobility, , Shakti,  moderated a session 'Enabling Policies to Empower EV Manufacturing in India', wherein the panellists discussed challenges faced in EV manufacturing ecosystem in India as well as  underlined the steps required to be undertaken to promote EV manufacturing in India. The panellists discussed broader areas pertaining to EV component localisation, skilling of the workforce, supporting innovation to drive cost optimisation, and subsidising adoption of electric commercial vehicles among others.
Suchitra Subramaniyan, Programme Manager, Electric Mobility, Shakti, moderated a session on 'Enabling Policies to Enhance Charging Infrastructure in India', wherein the distinguished panelists discussed the challenges faced by the EV charging infrastructure ecosystem faced in India, and discussed on opportunities for its peaceful existence with battery swapping for the EV ecosystem. A need for focus on public charging infrastructure inclusive of all vehicle segments was also highlighted, in addition to issues around urban parking challenges and an increase in home charging solutions in the years to come. The future of charging infrastructure for buses and trucks, and the need for renewable energy integrated charging solutions were also discussed and debated.
Broadly, the panelists also shared their expectations from the next edition of the FAME scheme!