Suchitra Subramaniyan, Programme Manager, Electric Mobility, Shakti Sustainable Energy Foundation (Shakti), delivered the welcome remarks at the Stakeholder Awareness Workshop on Electrification of Trucks for Cement Sector, organised by Confederation of Indian Industry (CII) at Hyderabad International Convention Center (HICC), Hyderabad on May 20, 2023.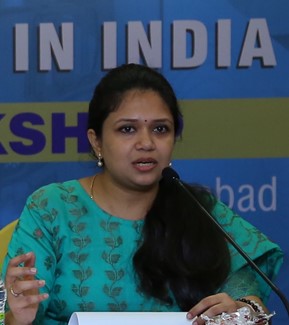 Cement is one of the eight core industrial sectors in the country, with the Indian cement sector being the second largest in the world at an installed capacity of 553 MTPA (Million Tonnes Per Annum). Emissions from logistics of cement accounts for 2%, done through road and rail, with the road transportation accounting to ~71% and a lead distance around ~300 km . It is estimated that logistics (inbound, outbound & internal raw material handling) would contribute 10-15% of the total manufacturing costs in the cement industry and more than 30%-35% in the final cement cost. For transportation by road, the cement sector in the country uses ICE (internal combustion engine) trucks for both transportation of raw materials and cement dispatch.
The Stakeholder Awareness Workshop was a part of a larger initiative to explore feasibility of electric trucks for the cement industry- spanning across inbound, outbound and also for internal raw material handling.
"To enable a shift towards electric trucks from ICE for cement logistics, wider acknowledgement and appreciation of the role of e-trucks in the cement sector is the need of the hour. The 3Cs – Communication, Collaboration and Culture – need to be followed. This involves effective Communication and Collaboration across all relevant stakeholders in the cement sector, EV manufacturers, fleet operators and other members of the EV ecosystem, along with a change in Culture by shift in perception, behaviour and attitudes of stakeholders at all levels of the value chain," said Suchitra, addressing the need for awareness to make the transition.
The event consisted of logistics heads from Cement plants across India and truck OEMs interested to make the shift to electric. The event consisted of enthusiastic discussions on opportunities and challenges of shifting from ICE to electric trucks were discussed across the room. The workshop culminated with Olectra's "Megha-etron" Electric Tipper being displayed at the venue.