Under India's G20 Presidency, the Foundations 20 (F20) hosted its annual flagship event, the Climate Solutions Forum, in New Delhi on June 8, 2023.
This day-long event, organised in collaboration with Dasra and co-hosted by Shakti Sustainable Energy Foundation (Shakti), focused on the theme of 'One Earth, One Family, One Future: Resilience for All.' The purpose was to facilitate constructive contributions for the upcoming G20 summit and to highlight key priorities, challenges, and opportunities in global climate action.
The hybrid event attracted more than 170 attending guests and 700+ online attendees. It convened policymakers, researches, businesses, foundations, philanthropists and civil society with discussions and panels around the most pressing questions in the context of the upcoming Indian G20 Summit.
Shakti curated the session dedicated to addressing the critical issues of 'Climate Change, Cooperation, and a Just Energy Transition.' Against the backdrop of India's G20 Presidency, Shakti curated two high-level panel discussions that explored emerging policy and market scenarios.
In recent times, numerous countries and businesses have taken significant strides towards integrating climate action into their conventional economic policies, including trade regulations, industrial policies, and investment norms. It is crucial to recognise that certain emerging policies have far-reaching implications for major trading economies, necessitating coordinated efforts to align economic policies. By effectively addressing pertinent questions surrounding these spillover effects, we can unlock the potential for robust green trade partnerships.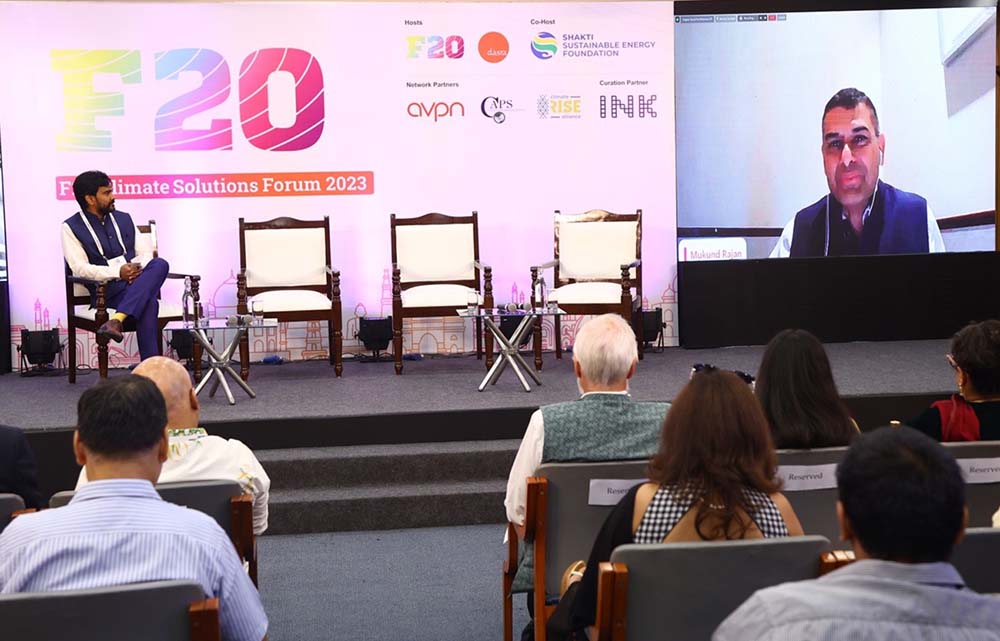 The first panel discussion, titled 'Promoting a Climate-Responsible Economy: The Role of Trade and Mechanisms like the Carbon Border Adjustment Mechanism (CBAM)', brought together experts such as Ajay Srivastava, Founder of the Global Trade Research Initiative; Anuradha R.V., Co-Founder & Partner at Clarus Law Associates; Chanakya Chaudhary, Vice President of Corporate Services at TATA Steel; Maria Elena Scoppio, Director for Taxation and Customs Union at the EU Commission; Saliem Fakir, Executive Director of the African Climate Foundation; and Suranjali Tandon, Lead Tax & Sustainable Finance at NIPFP.
This incisive panel shed light on the broader macroeconomic effects of CBAM, its impact on emerging economies, and the measures taken by these economies to shield themselves from unfavourable trade shifts. Additionally, it provided valuable insights into the response of the Indian steel industry and how the European Union evaluates this initiative.
The second panel, titled 'Accelerating Green Trade and Investments: Enabling Lifestyles for the Environment (LiFE)', delved into how consumer demand influences in terms of shifts in local practices and the aspiration for more sustainable lifestyles and how that can fuel green trade and promote a Lifestyle for the Environment (LiFE). Esteemed panelists included Akshay Jaitly, Co-Founder of Trustbridge; Deeksha Vats, Group Chief Sustainability Officer at Aditya Birla Group; Prabhav Sharma, Partner-Sustainability Practice in India at McKinsey & Co; Simrit Kaur, Principal at SRCC; and Ashok Emani, Principal ESG at the National Investment and Infrastructure Fund (NIIF).
The discussion proffered an awareness and understanding about harnessing consumer demand to accelerate green trade while emphasising the importance of sustainable lifestyles. The viewpoints highlighted the pivotal role of industry leaders and stakeholders in driving positive environmental change and fostering a sustainable future.
Mukund Rajan, the Chairperson of ECube Investment Advisors Private Limited, delivered the keynote address during. As an expert in investment markets and financial structures, he made several invaluable points regarding the ongoing shifts occurring in these areas and the role of innovation/technology and start-ups in serving shifts in consumption patterns to support LiFE.