Green finance is a key building block of the transition to net zero emissions. At COP 26, India set ambitious targets with enhanced 2030 NDCs, energy independence by 2047 along with a commitment towards net zero in 2070. It is estimated that India requires USD 2500 billion from 2015-2030 in order to achieve its NDCs, but as of 2022 less than 25 per cent of this target was met. The need to mobilise finance exponentially in order to support the transition is urgent and demands attention. At the same time, one must also be mindful of unintended consequences of sudden financial market reforms. Increased coordination and dialogue amongst relevant stakeholders is the need of the hour as we grapple with the question—How resilient is India's financial system to such unprecedented changes?
The Green Indian Financial Systems Initiative was conceived to drive action in this regard. The initiative is a multi-stakeholder exchange on greening India's financial system between France, Europe and India partners. Convened by Agence Française de Développement (AFD), Small Industries Development Bank of India (SIDBI) and Shakti Sustainable Energy Foundation, the initiative fosters dialogue on green finance in India, catalyses green finance initiatives and identifies priority areas for action.
Launch of the Green Indian Financial System Initiative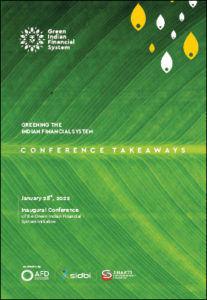 The initiative kickstarted with a virtual conference on January 28, 2022 between French, European and Indian partners comprising leading policy makers, civil society actors, financial institutions and banks, and think tanks for a multi-stakeholder exchange on three key parameters : the role of regulations in managing climate-related risks, enhancing the resilience of the financial sector and mainstreaming a green taxonomy for India. Mr. Rémy Rioux, CEO of AFD provided the opening remarks stressing on the importance of strengthening bilateral collaboration between India and the EU. He reiterated the changing policy landscape as governments all over the world clarify long-term climate objectives contributing towards (near) mid-century decarbonisation. He added that banks and financial institutions will play a major role in achieving climate neutrality through financing this huge and complex transition. Read the conference takeaways.
Workshop on Sub National Green Finance
With India announcing a target of net zero emissions by 2070, it is important to tackle climate finance in the context of subnational climate action and regional priorities. Policies and schemes are implemented at the state level  and the role of subnational finance is crucial in complementing the efforts of the national government. It is against this backdrop that the webinar on the theme of 'Greening of finance at sub-national level' was designed by the Green Indian Financial System (GIFS).
Held on April 4, 2022, the webinar brought together think tanks and civil society to discuss how broader economic and social development concerns can be addressed in green investments at the state level. It focused on the role of financial mechanisms in catalysing green finance and how India can transition to a resilient, greener financial system incorporating relevant global standards on disclosures and risk management. Discussions featured insights from Climate Policy Initiative, World Resource Institute (India), The Energy and Resources Institute, Centre for Budget and Governance Accountability, ICLEI – Local Governments for Sustainability and Asian Development Research Institute, amongst other institutions.
High Level and Technical Workshop
The GIFS initiative held its second seminal convening from June 13-15, 2022 in Paris bringing together renowned Indian, French and European experts from the financial ecosystem and policy-making bodies. This convening facilitated knowledge exchange on issues pertaining to climate finance strategy, climate risk integration, mobilisation of private climate finance and financial regulation on climate risk and taxonomy.
The India delegation included representation from the Reserve bank of India, Indian Banking Association, NITI Aayog, NABARD, and commercial financial institutions such as Bank of Baroda, Axis Bank, Power Finance Corporation, Aavishkar and IIFC. The French and European Delegations included representation from the EU Commission, French Treasury, Network for Greening the Financial System (NGFS), Organisation for Economic Co-operation and Development (OECD) and pioneering private green funds like Natixis, Sycomore, Carbon4Finance, amongst others. The discussions culminated in the development of concrete and actionable next steps on climate risk integration for India, which are intended to set the stage for the final GIFS conference scheduled in India later this year.
Mumbai Convening
On November 28, 2022, GIFS organised its final convening in Mumbai, India bringing together high-level Indian officials and senior representatives from Indian, French and EU financial institutions and development banks to identify priority areas for action and further boost synergies in the Indian financial sector. The convening highlighted GIFS achievements and milestones during the year, upcoming shifts in policy and financial landscape along with exciting new initiatives planned for the next year.
By gathering a community of like-minded finance practitioners composed of banks and financial institutions wiling to participate to the greening of the Indian financial system, the GIFS initiative expects to widen and share the discourse around the greening of the Indian financial system.
The event was hosted by Mr Ramann Sivasubramian, Chairman and Managing Director, SIDBI, Mr Remy Roux, CEO of AFD and Koyel Kumar Mandal, Chief of Programmes, Shakti Sustainable Energy Foundation.  The concluding address was given by Mr Jayant Sinha, Chairperson, Standing Committee on Finance, Parliament of India, Mr Rajeshwar Rao, Deputy Governor, Reserve bank of India (RBI) and Mr Ananta Barua.
The organisers signed a joint declaration  at this GIFS event, reaffirming their commitment to greening the Indian financial system and strengthening further the GIFS dynamic in the coming years. The event also saw the launch of GroW–Greening of Finance by Women, an exclusive network for leveraging women's knowledge and networks and advancing their participation towards greening of financial systems.
For more information, visit the GIFS website and read the press release.
Partner Organisations
French Development Agency (AFD) Group
AFD Group implements France's policy in the areas of development and international solidarity. The Group includes Agence Française de Développement (AFD), which finances the public sector and NGOs, as well as research and education in sustainable development; its subsidiary Proparco, which is dedicated to private sector financing; and Expertise France, a technical cooperation agency. The Group finances, supports and accelerates transitions towards a fairer, more resilient world.
Small Industries Development Bank of India (SIDBI)
Small Industries Development Bank of India (SIDBI) set up on 2nd April 1990 under an Act of Indian Parliament, acts as the Principal Financial Institution for Promotion, Financing and Development of the Micro, Small and Medium Enterprise (MSME) sector as well as for co-ordination of functions of institutions engaged in similar activities.
Shakti Sustainable Energy Foundation
Shakti Sustainable Energy Foundation is an enabler for clean energy and sustainability solutions. Shakti works with policy makers, civil society, industry, think tanks, and academia to identify and scale energy system interventions that will reduce GHG emissions to align with a net zero future and address the climate crisis.