Home to nearly a quarter of India's population and contributing to around 75% of total GDP, India's rapidly growing cities are on the frontline of the climate crisis. Already the pattern of urbanisation is rife with numerous stresses on cities: rapidly expanding urban sprawl, inadequate and unreliable urban infrastructure, growing congestion and hazardous air pollution. The changing climate has severe repercussions on their economies and people. The IPCC adaptation report points to Ahmedabad and Mumbai facing a high risk from the urban heat island effect and experiencing floods and rise in sea level respectively. There is also evidence to show that heat stress can impact health, reduce productivity and GDP. Therefore, it is imperative for cities to take action on climate change.
Shakti Sustainable Energy Foundation is collaborating with the Gurugram Metropolitan Development Authority (GMDA) and The Celestial Earth to develop a roadmap for Gurugram to achieve net zero emissions by 2050. Gurugram is one of the few cities in India that is exploring a net zero timeline, two decades ahead of the national target of 2070.
The roadmap comes at a critical juncture. According to an estimate, the millennium city's carbon footprint is the highest in the country. Increased vehicular emissions and air conditioning usage, concretisation and loss of natural vegetation are accelerating the urban heat island effect and taking a toll on the city's water and land resources. The situation is similar for so many rapidly heating Indian cities. See data for Gurgaon and key Indian metropolises below: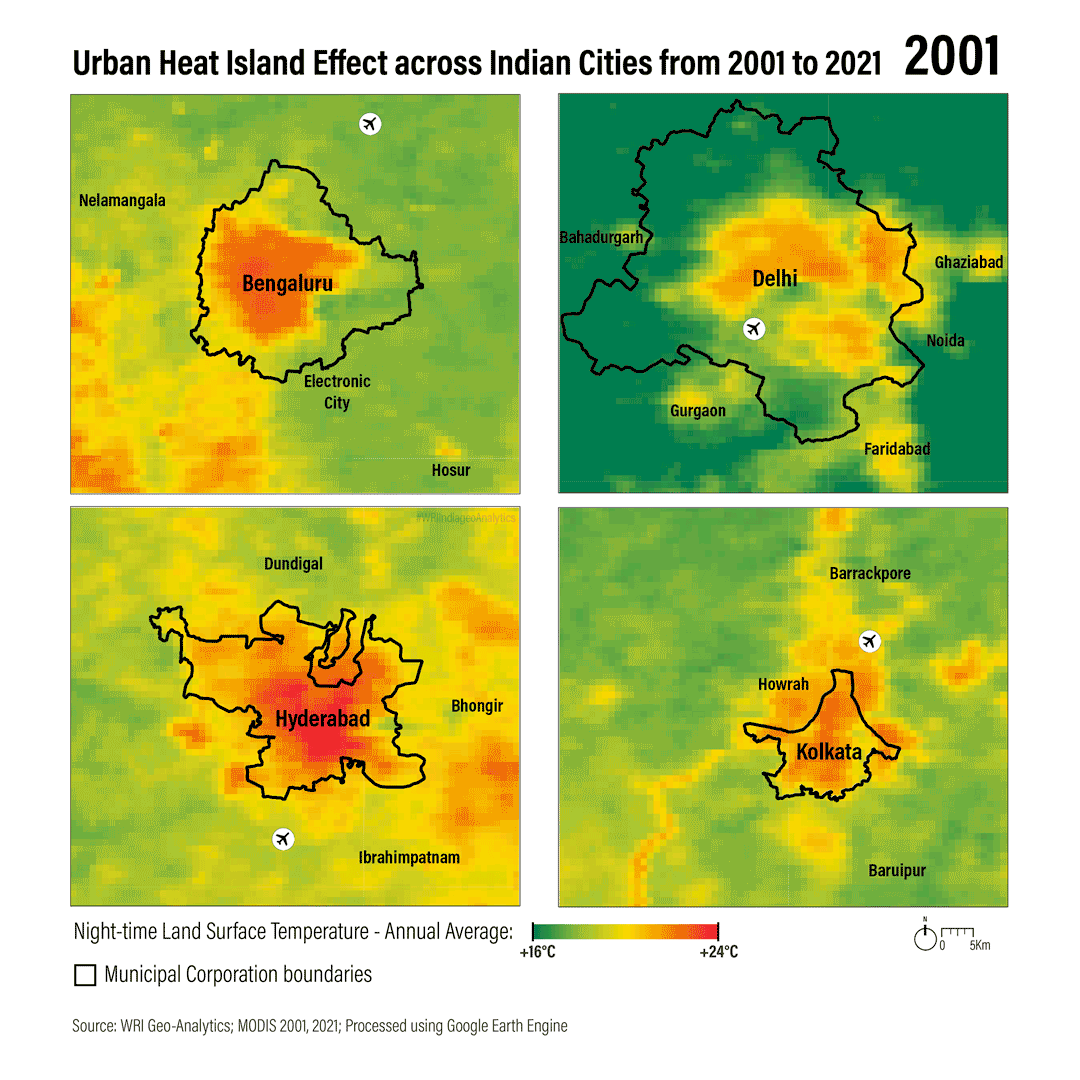 This is the right time for a growing city like Gurugram to take mitigating measures and reduce GHG emissions. The roadmap will be developed starting with a carbon emission inventory and adaptation needs assessment for the city. The analysis will examine the feasibility of interventions that can eliminate emissions from buildings, transport, municipal services, construction of infrastructure and individual energy consumption by the city's residents.
Green initiatives would include green buildings, sustainable transportation measures such as electric vehicles, and waste management. The roadmap will integrate the overarching development strategy set by GMDA, including the city's environmental plan and offer clear, implementable solutions towards reaching the net zero goal.
The effort to build a net-zero 2050 roadmap was announced by Shri Subhash Yadav (Additional Chief Executive Officer, Urban Development, GMDA) and Shri P. Raghavendra Rao (Chairman of the Haryana State Pollution Control Board) on World Environment Day 2022 at a stakeholder workshop in Gurugram.
The net zero by 2050 roadmap is a crucial opportunity for the growing millennium city to prepare itself for a changing climate and deliver on sustainable development. Major changes and investments are required along with a strong need for stakeholders collaborate with each other and co-create adaptation and mitigation strategies with well-thought-out delivery mechanisms.