World EV Day, an annual event celebrated on September 9, to raise awareness about the benefits of electric vehicles (EVs) and to promote their adoption, was first celebrated in 2020, and it has been growing in popularity ever since. World EV Day 2023 brings a powerful message for India and the world regarding sustainable transportation and a cleaner future, free of carbon emissions.
As part of World EV Day, Shakti began a month-long initiative on Independence Day, August 15, 2023, a day that symbolises freedom and innovation. Shakti team embarked on an electrifying journey to promote sustainable transportation and debunk myths surrounding electric vehicles.
A hashtag, #jointheEVolution was created which saw major adoption across social media platforms. This hashtag became a unifying force, bringing together individuals and organisations committed to accelerating the transition to electric mobility. Watch video.
Did You Know series was launched on Shakti's social media platforms. Fascinating Facts and figures and a series of EV characters to share information about electric vehicles were also shared to dispel common misconceptions. Also, as part of this engagement, viewers were asked Riddles related to EVs. This entire series was an effort to make EVs relatable and exciting, The aim was to enlighten the audience on the benefits and potential of EVs paving the way for a greener future.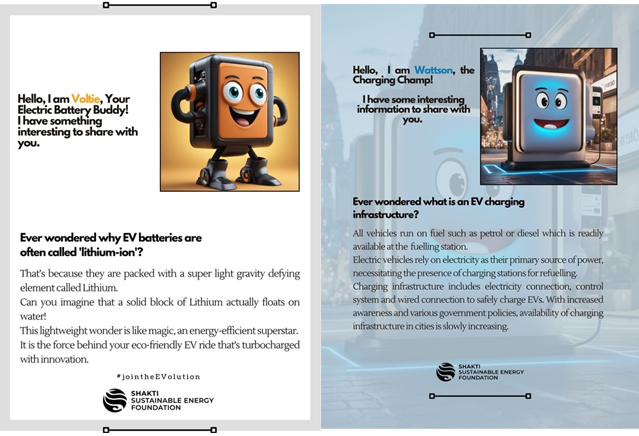 As part of our World EV Day celebrations, exciting office activities were organised that brought colleagues together in a spirit of creativity and collaboration. The Treasure Hunt was an electrifying adventure where teams explored clues related to electric vehicles. It showcased the power of teamwork and problem-solving in embracing cleaner transportation solutions.
In addition, our art and craft activity allowed us to sculpt our vision of a cleaner, electric future. Colleagues created intricate clay models, symbolising our dedication to raising awareness about sustainable mobility. These unique clay creations stand testament to our commitment to a brighter, greener world. Watch video.