The Indian economy is currently grappling with the fallout from the COVID-19 pandemic after an earlier slump in the automobile manufacturing sector and an NBFC crisis from 2019. With a record-low national sovereign credit rating, policymakers will be prioritising economic growth in the coming decade. A clear policy signal behind the push for climate-aligned economic development can build investor confidence and bolster climate-aligned investing in the country.
This is especially relevant in light of India's 450GW renewable energy installation target by 2030, an assertive and ambitious step toward a clean energy transition. The power sector is undergoing a major overhaul to adapt to changing paradigms. It is vital to accelerate the development of clean energy technologies, improve forecasts of demand and clean energy and improve system optimisation and monitoring.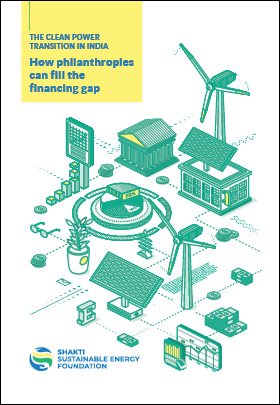 But the transition will require an investment of $500 billion at an ecosystem level. Private sector investment will be key to achieving this ambitious target. But private sector investment in renewable energy will require consistent policy and regulatory regimes at the national and sub-national levels that will allow investments and their recovery in a much more stable manner than at present. Pushing the growth of renewable energy financing requires continuous updating of policies, best practices and innovation in the sector.
There are  key opportunities for philanthropies to act on clean energy action such as developing strong policy solutions, driving civil society capacity and collaboration,  investing in market-based solutions, strengthening transmission system and grid modernisation, designing innovative financial instruments, boosting sub-national capacity for attracting green finance and developing a just transition pathway for the power sector.
The Clean Power Transition in India: How Philanthropies can Fill The Financing Gap takes a deep dive into the clean power landscape in India. It looks at clean finance collaborations, ecosystem players including investors and the barriers to achieving the target of 450 GW  of installed renewable energy capacity by 2030. It assesses key opportunities in large scale renewable energy and based on a situational assessment of the clean power finance in India, proposes opportunities for philanthropic investment.
Authors
Raghav Anand, Senior Program Manager – Clean Energy Finance, Shakti Sustainable Energy Foundation
Akanksha Golchha, Senior Program Manager – Clean Power, Shakti Sustainable Energy Foundation