Air pollution is a serious threat to public health and communities at large. Over the years, Government of India has taken steps to address the issue of rising air pollution levels. Of these initiatives, the National Clean Air Programme (NCAP) is the most focused and cross-sectoral and urges cities to formulate a comprehensive plan to tackle the crisis.
Since air pollution sources vary by local characteristics of cities, each city requires a separate clean air action plan for better air quality management. This is critical to identify sources of air pollution such as emissions by vehicles, burning solid waste, dust-earthen emissions from construction activity, emissions from the commercial use of DG sets, continuous emissions through industrial units and burning activities in agricultural farms in the surrounding areas of the city.
Shakti-supported efforts have contributed to the development of clean air action plans for Bengaluru and Surat. Both cities have been identified as non-attainment cities under the NCAP and require robust planning and collaborative actions in air quality management. Both cities now have comprehensive roadmaps to tackle specific and sectoral emissions as well as the detailed counter-actions to mitigate and control these emissions.
Surat
Surat is the second largest city in Gujarat. Owing to a prosperous economy and a sizeable contribution to the GDP of the state and country, the city's population has been growing rapidly. Surat's economy thrives on the corporate chemical and engineering industries, small-scale industries, construction, textile, jari, and diamond industries. As the city grows, local leaders have a unique opportunity to integrate clean air plans and sustainable urban development strategies to improve citizens' health, well-being and quality of life.
As a key step in this direction, Surat Municipal Corporation (SMC) and Gujarat Pollution Control Board (GPCB), in collaboration with World Resources Institute, India (WRI India) and The Energy and Resources Institute (TERI), developed and launched a Surat specific clean air action plan. The  development of the plan was supported by Bloomberg Philanthropies and Shakti Sustainable Energy Foundation.
The Surat Clean Air Action Plan (SCAP) was released on December 24, 2021 by the Honourable Minister of Parliament, Shri. C.R. Patil in the presence of Municipal Commissioner SMC, Shri. Banchhanidhi Pani, Mayor Hemali Kalpeshkumar Boghawala and other Central and State Ministers.
The plan is timely indeed. It is estimated that the major sources contributing to PM10 and PM2.5 concentrations during the winter season are industry including power plants and brick kiln (37 per cent in PM10 and 40 per cent in PM2.5), dust (15 per cent in PM10 and 7 per cent in PM2.5), biomass usage in residences (14per cent in PM10 and 15 per cent in PM2.5) and transport (13 per cent in PM10 and 16 per cent in PM2.5).
The Surat Clean Air Action Plan recommends practical and cost-effective interventions to reduce emissions from identified air pollution sources. Some of the recommendations include promoting clean fuel in industries, monitoring and managing construction dust, boosting non-motorised transport, enabling open municipal solid waste burning, developing green spaces and assessing traffic junctions in the city to manage road dust.
Bangalore
Bengaluru, one of India's most bustling IT metropolises, is the third most populous city in India. Over the last decade, Bengaluru has witnessed rapid urbanisation, accompanied by a massive increase in vehicular and construction activities. There has been a vast increase in personalised transport especially two-wheelers on the roads. These developments have contributed to poor air quality and harmed the city's environment.
Bloomberg Philanthropies and Shakti Sustainable Energy Foundation supported the development of two key studies Emission Inventory and Pollution Reduction Strategies for Bengaluru and Identification of Polluting Sources for Bengaluru. Developed by Center for Study of Science, Technology and Policy (CSTEP), the studies identified polluting sources or activities or hotspots in Bengaluru and recommended concrete mitigation action.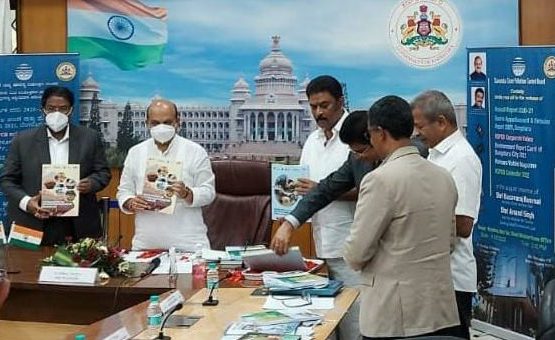 Both studies were released on February 4, 2022 by the Honourable Chief Minister of Karnataka, Shri. Basavaraj Bommai at a high-profile stakeholder event in Bengaluru organised by Karnataka State Pollution Control Board.
The findings estimated transportation to be the major contributor (around 40–51 per cent), followed by road dust resuspension (17–51 per cent). Other polluting sectors include construction dust, domestic fuel and diesel generators. The studies recommend a multi-pronged approach to controlling PM10 and PM2.5 emissions from road dust including vacuum sweeping of dust from paved roads and laying end-to-end pavements.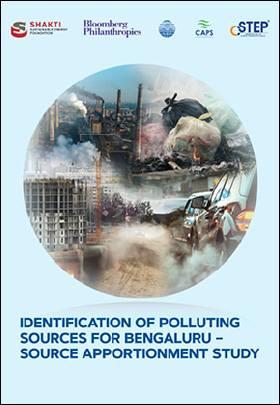 To curb pollution from the transportation sector, the studies stress on a greater deployment of electric vehicles with charging stations at regular intervals, along with the proper implementation of the vehicle scrappage policy. They highlight the need for regular servicing of public transport vehicles such as shared autos and buses, government heavy vehicles (dumper trucks, trolleys) to curb pollution. In addition, it is recommended that construction buildings should be covered vertically with a fine screen and material stored on construction sites should be covered properly. Besides controlling dust from construction sites, efforts for providing last-mile connectivity for transporting debris to the processing plant can aid in reducing pollution levels.