The railway sector plays an important role in India's growth and development. However, its share in overall freight mobility has been rapidly declining from 39% in 2002-03 to 27% in 2014-15. In the few decades, road transport has become the dominant mode of freight transport in the country due to increased investment in improving road infrastructure and the declining cost of road transportation. This trend has implications not only for the country's economic trajectory, but also for the levels of energy use and emissions.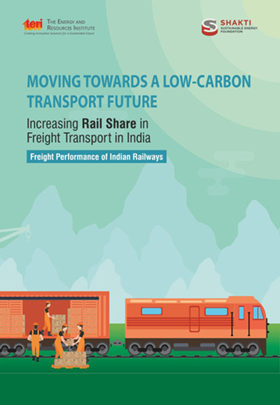 As the most environmentally benign mode of land transport, it is critical to retain and increase the share of railways in India's freight mobility. India has set the NDC target of achieving 45% share of rail in freight movement by 2030. It is crucial to understand the constraints of Railways and rectify the freight management systems in order to achieve the envisaged modal share.
One of key hurdles that is preventing the railway sector from realising its immense potential in a growing economy is constrained handling capacity and inadequate equipment for handling operations. These capacity constraints at freight terminals result in longer detention time and low speeds causing delays. Although significant efforts have been made by the Indian railways to increase the line capacity by modernising the tracks, much more needs to be done for modernising rolling stock and infrastructure.
Increasing the modal share of railways is one of the most important measures to decarbonise transportation. Research supported by Shakti Sustainable Energy Foundation and published by its grantee partner The Energy and Resources Institute identifies the underlying factors for the decline in the share of the rail sector on freight transport. It also proposes concrete implementable strategies and a roadmap to overcome this challenge. Looking at the areas where the focus is required from the railways, this research identifies six commodities that have the highest potential to shift to railways—Automobiles, Cement, Steel, Container, Fly Ash and Parcels—and proposes short to medium term strategies to facilitate the transition.
Increasing Rail share of Freight Transport in India
Commodity Wise Analysis